(Opening picture: Karl Markiewicz and Eustach von Wulffen, Movacar's founders)
What counts is: right product, right people, right time. And none of these things come out of the blue.
Passion and Patience – that sounds like a film with a melodramatic plot and a happy ending. However, we are not talking about fictional Kitsch, but real life media relations. And in order to achieve a happy ending, melodrama should be avoided. Passion, on the other hand, is the key – and patience is indispensable. Because what counts is: right product, right people, right time. And none of these things come out of the blue.
What it is all about: the right product
It goes without saying that any story can only be as good as its substance. With regard to media relations, this means that the product must be interesting and newsworthy. And as a consultant, you should – keyword: passion – love the product. Love in the sense of understanding why it is special, why it makes a difference and why it is cool. If this feeling is there, the client and the PR boutique can grow together – as our work with the Berlin-based start-up Movacar (www.movacar.com) underlines.
At the beginning, i.e. in the middle of 2018, there was only a very good and, above all, very logical idea: almost free one-way trips in rental cars that have to be moved from A to B. This all sounded very interesting, but it was not enough. It sounded so good, because there was a real win-win situation to communicate about: users pay only 1 EURO per trip (mostly even incl. fuel), and fleet operators save the usually extremely high costs for transfers operated by professional drivers.
What really matters: the right people
However, it was as easy to implement as it sounded. First of all, the relevant offer (= enough trips) had to be generated to convince users. At the same time, a critical mass of users had to be attracted, which in turn would persuade partners to come on board. The reason behind this mosaic finally coming together – step by step at first, then very quickly from a certain moment on – was ultimately the aforementioned Passion & Patience element – but above all the "Right People."
The business idea was not born out of a spontaneous champagne whim in a hip aperitif bar, but rather the well thought-out result of decades of the (joint)industry experience of Eustach von Wulffen and Karl Markiewicz. This was very important in the context of media relations, since journalists like to report on companies that are based on competence and therefore, have a real chance of establishing themselves in the market.
What definitely helps: The right time
Thus, after their market launch in October 2019, the interaction of different "right people" – founders, partners, first investors, trade journalists etc. – led to a first wave of attention, which subsequently could not be stopped even by the pandemic or inflation. On the contrary, in 2020, Covid-19 gave a boost to affordable individual mobility, and then, in 2022 rising consumer prices created a significant demand for cheap holidays.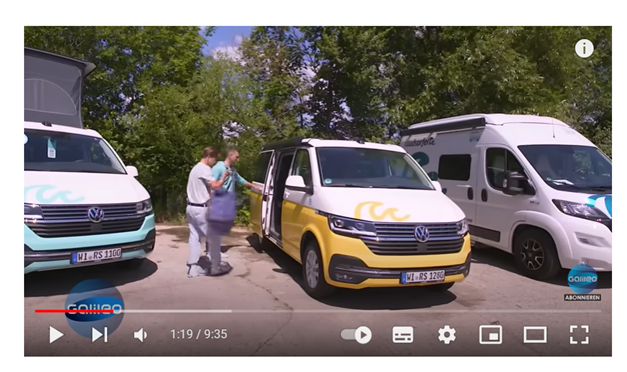 The ball finally started rolling, and  other media such as the national TV stations reported on this project. In this regard, the 'user crowd' was reached sustainably. Therefore, the Passion &Patience element led to coverage  and related awareness turned into tangible turnover.
What about you? Would you like to find out how the PR-B boutique can also help you in raising awareness with Passion & Patience?
Let's get in touch: sh@pr-from-luxembourg.com
---